Growing up in the early 90's we were very familiar with red-white-yellow cables which were meant to be plugged into our TV set every time we did something "different" other than watching TV. This "different" included a whole host of activities like
Connecting VCR to watch movies
Fig 1. Connecting VCR with TV[3]
Connecting Handycam to watch recording
Fig 2. Connecting Handycam with TV[4]
Connecting 8-bit/16-bit Cassette inserted Game consoles to play
Fig 3. 8-bit Game Console which used to be connected to a TV set[6]
Connecting speakers while watching a movie
The above examples must have refreshed some of the nostalgia associated with these wires and devices.
So what were these wires? Why were they so ubiquitous by their presence in our life?
These are called as the RCA connectors which were first invented in the 1940's. They are used for analog audio/video signal transmission.
Fig 4. RCA Connectors[12]
With the turn of the century, rapid advancements in the field of electronics and communications brought in newer ways to transmit audio & video. This limited the horizons where RCA connectors found its applicability.
Now before delving into the topic regarding the alternatives, let us limit our discussion to only the audio aspect. Over the years, the technology used in developing the Television has itself evolved from CRT to Backlit LED to OLED.
This transition improves the display and pixels per inch (ppi) but the acoustics or the sound from TV is not the same as before. It can be only claimed to be decent!!!!
So what is the solution???
Like every problem has a solution. Manufacturers have found a way out. The solution is buying a separate sound system called as  – Sound Bar.
Fig 5. Sony Soundbar[9]
Now like hooking up speakers or VCR with our TV, we have to hook up the Sound Bar with our TV. Taking into account the high-definition digital audio from the Sound Bar rules out RCA connector which is meant for analog signals.
Below are the examples of Soundbars from leading manufacturers which you can check it out directly by clicking the images
This leaves two options in the fray – HDMI or Optical Cable
So which one to go for? It is obvious one should be better than the other but which one?
To answer this we should look at what are both trying to cater to along with their background.
Optical cable uses fiber optic cables and laser light to transmit a signal between two devices. It was introduced by Toshiba in 1983 as an optical digital audio connector. It is better recognized by the name: TOSLINK. 
Fig 6. Optical Cable for Chromecast Audio[1]
The connection is resistant to magnetic and electrical interference and provides a data rate of 125 megabits per second (Mbps) to 1.2 gigabits per second (Gbps)[12]. Though cheap and easily available, the optical cable can be permanently damaged if the cable is bent.
Mini-TOSLINK is a standardized optical fiber connector used in many types of consumer audio equipment. Google Chromecast along with Apple devices use these connectors that allow for insertion 3.5mm headphone input or TOSLINK.
Fig 7. TOSLINK-to-mini adapter[13]
HDMI
HDMI (High-Definition Multimedia Interface) is relatively newer than optical cable as it was designed by collaborative work of seven companies in 2002 and went into production in 2003. It can support almost all the available audio formats (eg. Dolby Digital, TrueHD, Dolby ATMOS etc.). HDMI cables use the same technology as Digital Visual Interface(DVI)cables which is the standard connection in Desktops/Laptops.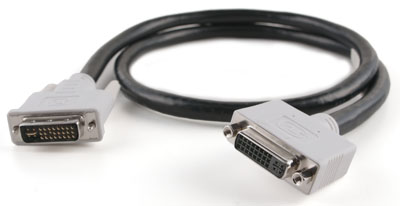 Fig 8. DVI Cable used in PC[14]
To differentiate itself, HDMI adopts DVI as the base and adds an audio component, support for a different color space and a few other components in a relatively smaller connector.
Fig 9. HDMI Cable Connector[17]
Inside HDMI cables are conductors for both the audio and visual components with return path which increases its speed and efficiency. On the outside, the standard cable connectors consist of 19 pins.
Comparison (Optical Cable versus HDMI)
Both Optical Cable & HDMI can pass multi-channel audio, like Dolby Digital and both cables are pretty cheap.
Suprised to see why we talking about similarities?
Well, this is where it stops!
HDMI can pass higher-resolution audio formats like DTD HS Master Audio and Dolby TrueHD found on Blu-ray which cannot be transmitted using an optical cable. As an add-on, HDMI can also pass video signals which simplify the wiring.
Verdict
HDMI is the technology of the future and it is evolving. Whenever possible, it is best to use HDMI in place of optical cable.
The only situation which warrants the use of optical cable is when there is no HDMI port available(old equipment/All ports have been taken).Optical Cable is also a cost-effective solution instead of going for HDMI splitter. In this scenario, the human ear will not able distinguish much between Dolby Digital v/s Dolby TrueHD/DTS HD MA.
Conclusion
Next time when you connect your Sound Bar to the TV, try to go for an HDMI. They simplify the connections and come with a lot of advantages. Optical cable might help with old sound equipment but in all other cases, HDMI should be preferred.
As an evolving technology, many HDMI cables also include Ethernet, which provides an internet connection along with the audio and visual components. There is no interference due to the introduction of Ethernet[15]. This will help to eliminate the need for additional cables arising out of wired or wireless internet connection as connecting to the internet is possible via these HDMI cables.
Here I have tried to give a comparison between Optical Cable & HDMI for audio applications.
You can follow my blog or Facebook page for getting insight on other topics.
If you want to share your opinion kindly do so in the comments section or email me at u2d2tech@gmail.com. 
References: