Background
Graphene is a two-dimensional(2D) material which exhibits many wonderful properties like[9]
Large intrinsic mobility for charge carriers
Small effective mass(almost zero)
No scattering effect at room temperature
Current density ~6 orders of magnitude higher than copper
High Thermal conductivity
Impermeability to gases etc………
Fig.1 Graphene(2D) sheet can be wrapped up into Buckyballs(0D), rolled into Nanotubes(1D) or stacked into Graphite(3D)[2]
This wonder material was finally isolated from Graphite and characterized by Andre Geim and Konstantin Novoselov at the University of Manchester, in the year 2004.
The researchers were awarded the Nobel Prize for Physics in accordance to the "groundbreaking experiments regarding the two-dimensional material graphene" in 2010[6][7][8].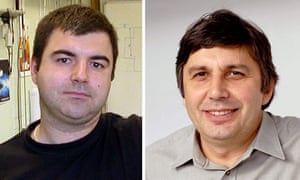 Fig 2. Kostya Novoselov and Sir Andre Geim [6][7][8]
Isolation Technique: Repeated peeling with an adhesive tape until the thinnest flakes were found. An issue with this approach is that the graphene crystallites left on the substrate are submerged between the graphite flakes[2].
Fig 3. In the absence of high-quality graphene, micromechanical cleavage of bulk graphite is done[1]
These films were characterized at the material level(using SEM, TEM, AFM, Raman Spectroscopy etc.) and device level(using I-V, C-V etc.).
Fig 4. Material characterization of micromechanically cleaved bulk graphite[2]
(a) Graphene visualized under an AFM indicated a monolayer; (b) A TEM image of a freely suspended graphene sheet on a micron-size metallic scaffold; (c) SEM image of graphene crystal, which shows that most of the crystal's faces are zigzag and armchair edges as indicated by blue and red lines(which dictate the transport & magnetism in graphene)
From the above description, we can understand that a major drawback in harnessing the full potential of Graphene is in achieving wafer-scale uniform films.
There were many noticeable attempts that were made for realizing this objective
A South Korean research group had reported a roll-to-roll production and wet-chemical doping method of a predominantly monolayer graphene film[3]. This film was grown by Chemical Vapour Deposition(CVD) on to a flexible copper substrate length(L)=30inches
Fig 5. Roll-to-Roll production technique of graphene films for transparent electrodes[3]
Recently, researchers at University of Michigan(Ann Arbor) presented a design which is based on a Concentric Tube (CT) reactor for Roll-to-Roll(R2R) production of graphene using Chemical Vapor Deposition(CVD) on flexible substrates along with its production on the copper foil[10].
Fig 6. Concentric Tube CVD (CTCVD) system configured for R2R graphene growth on the Cu foil[10]
In some of the approaches(like R2R CVD and ALD[11]) mentioned above(except cleaving) there have been issues like
scalability
uniformity
multilayer films instead of single/bilayer films
high resistivity
low transparency etc……..
Is there any noteworthy development??
MIT Researchers have been able to develop a scalable, cost-effective synthesis and subsequent graphene integration necessary for a large-area application such as nanoporous atomically thin membranes (NATMs)[5][13]
Let us examine the topic for a better understanding……
Breakthrough[5]
The researchers utilize a Chemical Vapor Deposition(CVD) chamber and combine it with a Roll-to-Roll(R2R) approach for getting high-quality graphene on a large scale.
Fig 7. Roll-to-roll CVD reactor on rails along with supporting parts[5][12]
The system consists of two chambers which are connected using a conveyor belt (that runs through a furnace where the growth & post-growth annealing happens)[5][12][13].
Fig 8. Roll-to-Roll(R2R) CVD reactor for graphene production[5][12]
First Chamber: Copper foil(<1cm wide) is passed through the first tube and sufficiently heated prior to being ready for growth. A 'split-zone' design is utilized for growth & annealing[5][13].
Second Chamber: Gases are pumped in at a specified ratio(Methane & Hydrogen Gas). Initially, graphene starts forming little islands which coalesce together to form a continuous sheet
The following video shows a conveyor belt-like movement of the copper strip which has been used during the graphene growth
Using the method described above, researchers were able to feed the system and grow high-quality graphene at a rate of 5cm/min[5][13]. The duration of the run was about t=4hrs & continuous graphene length(L) =10metres.
Fig 9. Roll-to-Roll(R2R) graphene on polymer PES along with its micrograph[5][12]
Article
If you want to share your opinion kindly do so in the comments section or email me at u2d2tech@gmail.com.
References:
S. Bae et. al.,"Roll-to-roll production of 30-inch graphene films for transparent electrodes", Nature Nanotechnology, V

ol. 

5, P

ages 

574–578, 2010
P. Kidambi et.al., "

A Scalable Route to Nanoporous Large-Area Atomically Thin Graphene Membranes by Roll-to-Roll Chemical Vapor Deposition and Polymer Support Casting

", ACS Appl. Mater. Interfaces, 

10

 (12), pp 10369–10378, 

2018

E. Polsen et.al.,"High-speed roll-to-roll manufacturing of graphene using a concentric tube CVD reactor", Scientific Reports, V

ol. 

5, Article number: 10257, 2015

Y. Zhang et. al., "Low-temperature remote plasma-enhanced atomic layer deposition of graphene and characterization of its atomic-level structure", J. Mater. Chem. C, 2, 7570-7574, 2014