Background
Nowadays in the Indian market, we come across advertisements which flaunt a punchline for Ceiling Fans – "Anti-Dust".
This indeed is a break from the routine as these fans claim to have the following advantages over their predecessors(normal ceiling fan)[1][2]:
Reduced dust collection(by ~50%)
Ease of cleaning
So does this really mean we have a breakthrough?
Answer: YES
Can this be extended to the other facets of the consumer durables which require cleaning & maintenance on a regular basis??
Answer: Possibly YES…..
Now let us try to understand how these fans are able to shrug off dust & dirt in comparison to normal ceiling fans
Working Principle
The fan blades are coated with paint that is hydrophobic and oleophobic in nature[3][4].
Hydrophobic: Nonpolar molecules that repel the water molecules
Oleophobic: A type of material which lacks an affinity for oils
Fig 1. The behavior of a droplet on different types of surfaces[3]
Fig 2. Smartphone Screen having oleophobic coating [5]
The following video will demonstrate briefly how 'Anti-Dust' Fans make life convenient in comparison to their conventional peers
The formulated 'Anti-Dust' coating is proprietary and arrived at after years of research.
The Coating will include the following[6][7][8]
Thermoset adhesive 
They are crosslinked polymeric resins which undergo a chemical reaction when curing is done using heat and/or heat and pressure such that the structure formed has superior strength and environmental resistance[10].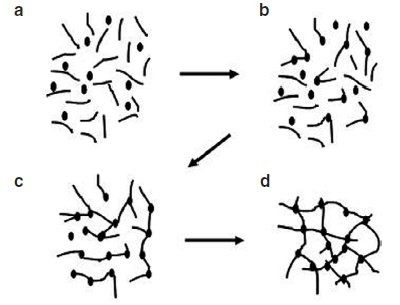 Fig 3. Cross-Linking in Thermoset compound [9]
Anti-static matting agent 
In order to neutralize the electrostatic charge which has risen due to friction small amounts anti-static agents like fumed alumina are used[10]
Fig 4. Fumed Alumina used as Anti-Static Matting Agent [10]
Lubricity agent
Lubricity is used to quantify the reduction friction owing to a lubricant[11]. This is determined by the wear caused to the surface by a given object over a period of time. PDMS can possibly be used to fulfill this role.
Fig 5. Polydimethylsiloxane (PDMS) [12]
Other than this it has a Conductivity component, Dispersant, Solvent & Binder(the ratio in which it is present in the coating over the surface determines the dust buildup over time) and UV(ultraviolet) Activator
Fig 6.  UV Exposure to the surface[13]
The coating derived from them will have the hydrophobic and oleophobic nature, thereby keeping dust & dirt at bay.
Conclusion
We have seen that major disruptions can be brought about in an existing market with the use of nanotechnology & materials science.
In this case, the 'anti-dust' coating need not be limited to the ceiling fan blades but can be extended to window blinds, furniture etc.
PS: This post is just for elucidating the science behind the anti-dust fans & not to endorse any specific brand
If you want to share your opinion kindly do so in the comments section or email me at u2d2tech@gmail.com.
References
‎